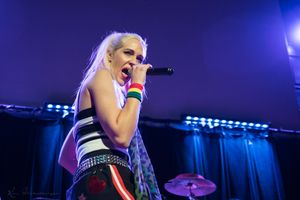 Bio
Rock Steady is a No Doubt Tribute from St. Louis who is available to entertain from Colorado to the east coast. It's an all-star cast of musicians bringing Gwen Stefani and No Doubt to life. They bring you a unique and female led entertainment for your bar, festival, wedding, event, school, or state fair. 
This group of 7 loves the various styles and modes of No Doubt: reggae, ska, pop, dance, and punk. Its a high energy show to get your boogie on. Swoon, yell, dance along with Gwen as she jumps and weaves through the No Doubt catalog. 
Stephanie aka Gwen Stephanie Stefani: Has had a deep passion for music since she was a kid putting on pretend rock concerts using her tennis racquet guitars and hairbrush mic! Steph has lived in Las Vegas and the Bay Area (The O.C.- No Doubts home turf) before moving back to her hometown of St. Louis. She has fronted a number of bands and has worked with some of the most talented and inspiring musicians in the city. Currently you can catch Steph here in Rock Steady and F.I.R.E (Females in Rock Experience). Gwen and No Doubt has always been one of her absolute favorites. This tribute is truly a dream come true.
Phil (Keyboardist): He has made music his lifework. Phil launched his music career on Los Angelos playing all over southern California. Phil has written for Capitol Records, re-written and recorded Marty Balin's songs from Jefferson Starship's back up band while in St. Louis. You may have seen Phil is one of St. Louis' all-time top cover bands "Plastic". Phil owns Spinning Fire Music which helps local singers, songwriters, writers, and recording original music. Rock Steady, F.I.R.E., and part-time fill in for Contagious. THE MAN MAKES NO DOUBT COME ALIVE like the albums. We prefer calling him "Keyboard Magician". 
Kury aka Tony Kanal (bass): Is an intense character who just loves to feel the music. Any kind of music. He's near deaf so he's squeezing the last years of ears via playing which as many AWESOME musicians he can. Kury was a left handed pitcher for minor league and semi-pro teams during his early years. That stage led to the musical stage. Kury has recorded and toured with original acts like Revel Cain, Revence, Silent Hollow, Cherry Grove, Crushing California and Press The Button. He has a solo side-project called Ghoul Grass which sees his upright bass and mandolin skills on display (the alter-ego- music on Spotify/Apple Music YouTube). In his free time he loves Tribute acts. He's played in or currently in Trashed- a Tribute to Garbage, The Jalapeño Poppers- a Tribute to red Hot Chili Peppers, MetalliCats- a Tribute to Metallica, Dwight Isaac- a Tribute to Dwight Yoakum and Chris Isaac, and Ebb & Flow- a Tribute to 311. Most of the time, you will see him in the goofy and exaggerated production and light in a T-Rex suit with STL' Pulp Friction. 
Rob Moenigmann aka Adrian (Drums): Rob comes from a musical family in STL, and since the age of 5 he has been beating the crap out of drums. Rob toured around with his father and has gotten into local stages very early in life opening for Mama's Pride, Devon Allman, and Honeytribe. Rob is also a recording engineer and had key role with Smile Empty Soul, Hushlist, Crushing California, and Shaman's Harvest. 
Jaime (back up vox and reggae rapper): You may know her as Shirley Manson from the Garbage Tribute- Trashed from STL. Jaime brings a diverse rap to rock vocals to Rock Steady. 
(full bio coming)
Niki Varner (backing vocals): Back up singer Niki Varner lives for the stage!! She started her career in musical performances at church when she was just 5 years old!! She would go on to perform in community theater through high school and into her adult years. Greece, Phantom of the Opera, Bye Bye Birdie, Les Miserables, Charles Dickens, A Christmas Carol to name a few, gave this soprano some amazing opportunities! Now she is back on stage as a supporting vocalist to the amazing Steph "Gwen" Johnston!
Spencer Wells (Guitar):
(Bio coming soon)