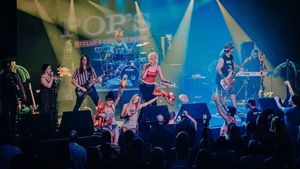 ROCKSTEADY is ready and poised to knock your socks off! Show dates are posting, and this Tribute to NO DOUBT is ready to hit the stage. It's your chance to ska-punk-rock-pop-reggae-AND DANCE the night away. Come sing along and get jumping at the next show. It's an all-star line up complete with Steph Stefani, a true Gwen look-a-like. 
See our LATEST live video from The Backroom at the Bottle and Barrel in Alton, IL (Click here!).
NEW SHOW ANNOUNCED! March 14th...come to our No Doubt and brand new Gwen Stefani show at The Link Auditorium in the Central West End. This historical venue has amazing acoustics. The tribute act is going to take you from the first No Doubt single, Tragic Kingdom, all the way to Gwen's solo albums and even special guest singers recreating the Superbowl cover with Sting. Its going to be a full night of No Doubt and Gwen Stefani history (no Blake Shelton cameos).  
You can book Rocksteady for private events, city municipality concerts series, weddings, bars, festivals, and more. Gwen and her group of musicians (seven in all) come ready to entertain. Great for children to adults, outdoors or indoor shows. We customize and are flexible with each desired show. Get in touch on our Contact Page. 
Check out our NEWST video below: